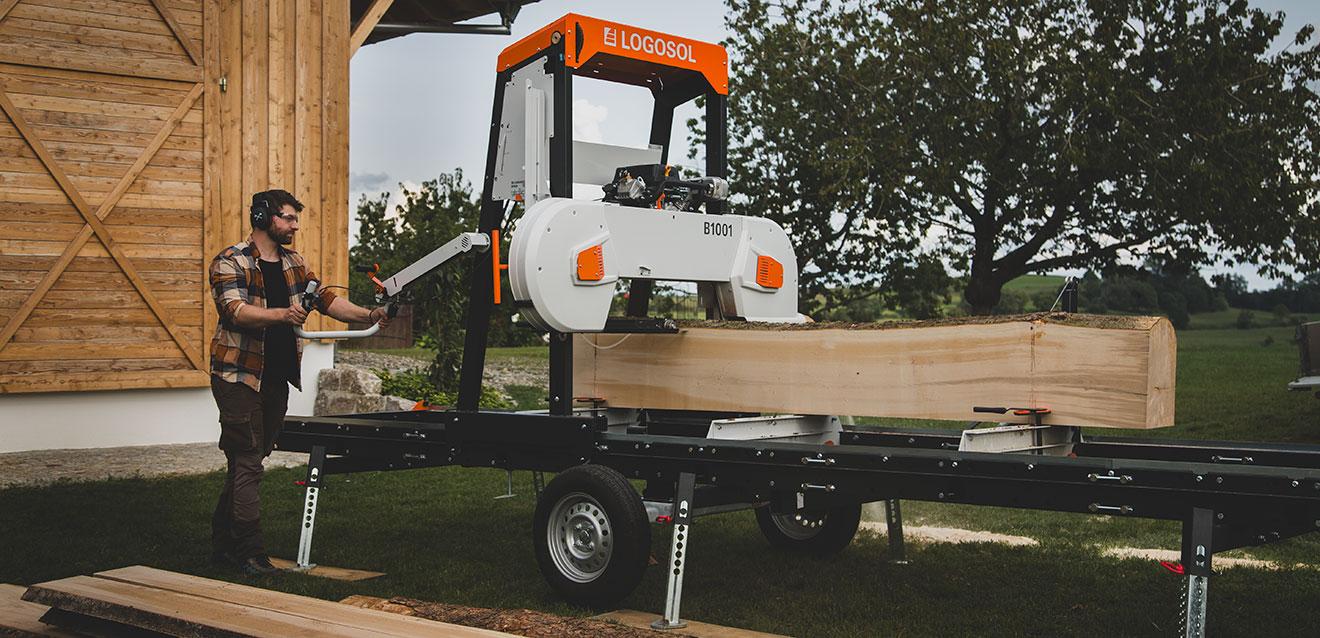 Logosols Hard-Tested and Ultimate Bandsaw Blade
Install professional blades in your bandsaw and notice the difference! After extensive testing and 30 years' experience in sawing timber, we have selected three different bandsaw blades. They are all optimized for highly productive sawing of different types of wood and have different properties to suit our customers' varying needs. The right saw blade provides for a fantastic sawing experience. We make choosing the right blade easy for you.
Why You Should Buy Bandsaw Blades From Us:
Specially designed for superior sawing: Our bandsaw blades are carefully chosen with special teeth and strong, flexible material to provide the best sawing experience in your band sawmill.
High productivity and precision: Selected for demanding sawing with high-standard results.
Fast delivery: Our bandsaw blades are in stock and we can deliver quickly.
Swedish quality: Made by Bahco with over 130 years of experience in saw blades.
Tests and experience: Our bandsaw blades are rigorously tested by us at Logosol and thousands of satisfied customers worldwide.
Simple sharpening: We also offer high-quality band blade sharpeners for easy maintenance.
Side-setting: The saws are side-set with 100% monitoring on every tooth to ensure perfect alignment.
Warranty: When you use Logosol saw blades, your sawmill's warranty becomes more comprehensive.
In other words, when you choose Logosol bandsaw blades, you get products designed to exceed expectations and help your band sawmill achieve the best cutting results.
Enjoy a fantastic sawing experience and perfect results with bandsaw blades selected by Logosol!
The Bandsaw Blades We Recommend are: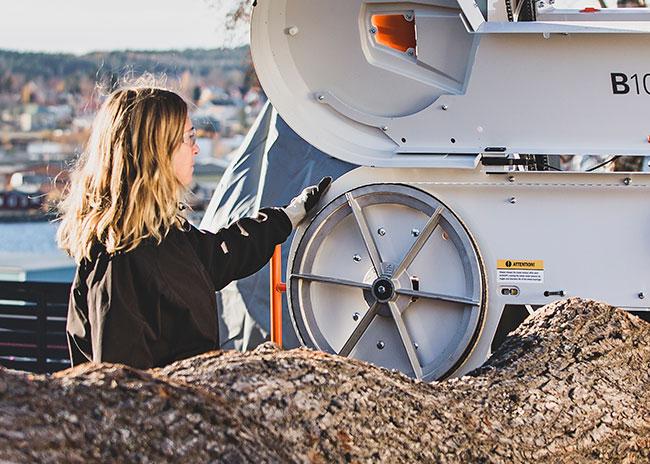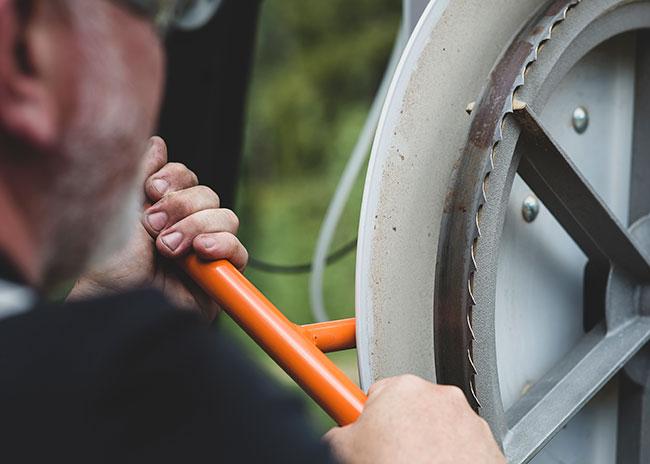 What We Consider When Choosing Bandsaw Blades
There are many external factors that come into play, but this is what Logosol considers when choosing bandsaw blades for itself:
When we use BAHCO Carbide Hard metal we can saw around 200 logs before it's time to sharpen. This equates to 20,000 running metres. If we make an average of 20 saw cuts per 5 m logs, the total will be 4000 saw cuts. We have customers who have sawn up to 400 logs with the same carbide blade. We don't have to worry about sharpening and we enjoy 100% effective cutting time. And you won't have to buy equipment for sharpening and side-setting. We usually choose this blade as we want to cut as much as possible and enjoy a perfect sawing experience and results.
When we use BAHCO Sandcut Bimetal HSS we can saw around 14 logs before it's time to sharpen. This equates to 1400 running metres. If we make an average of 20 saw cuts per 5 m logs, the total will be 280 saw cuts. Some customers scrap these blades without sharpening them,
which costs about the same as investing in a BAHCO Carbide Hard metal blade for the same cut volume. One advantage of buying HSS blades is that when damaged they are easy to sharpen, and if one breaks it involves lower costs compared to a carbide blade.
When we use BAHCO Sandcut Solid we can saw around 7 logs before it's time to sharpen. This equates to 700 running metres. If we make an average of 20 saw cuts per 5 m logs, the total will be 140 saw cuts. We choose this blade for smaller quantities of wood and we make sure we sharpen it often. This is also a wise choice when we know there are nails in the wood or when the wood is sandy or similar. It's a smart way to conserve the more exclusive blades.
One alternative when cutting wood containing nails is to use a blade that has been sharpened multiple times, as any damage is not as costly if the blade has already done a lot of work.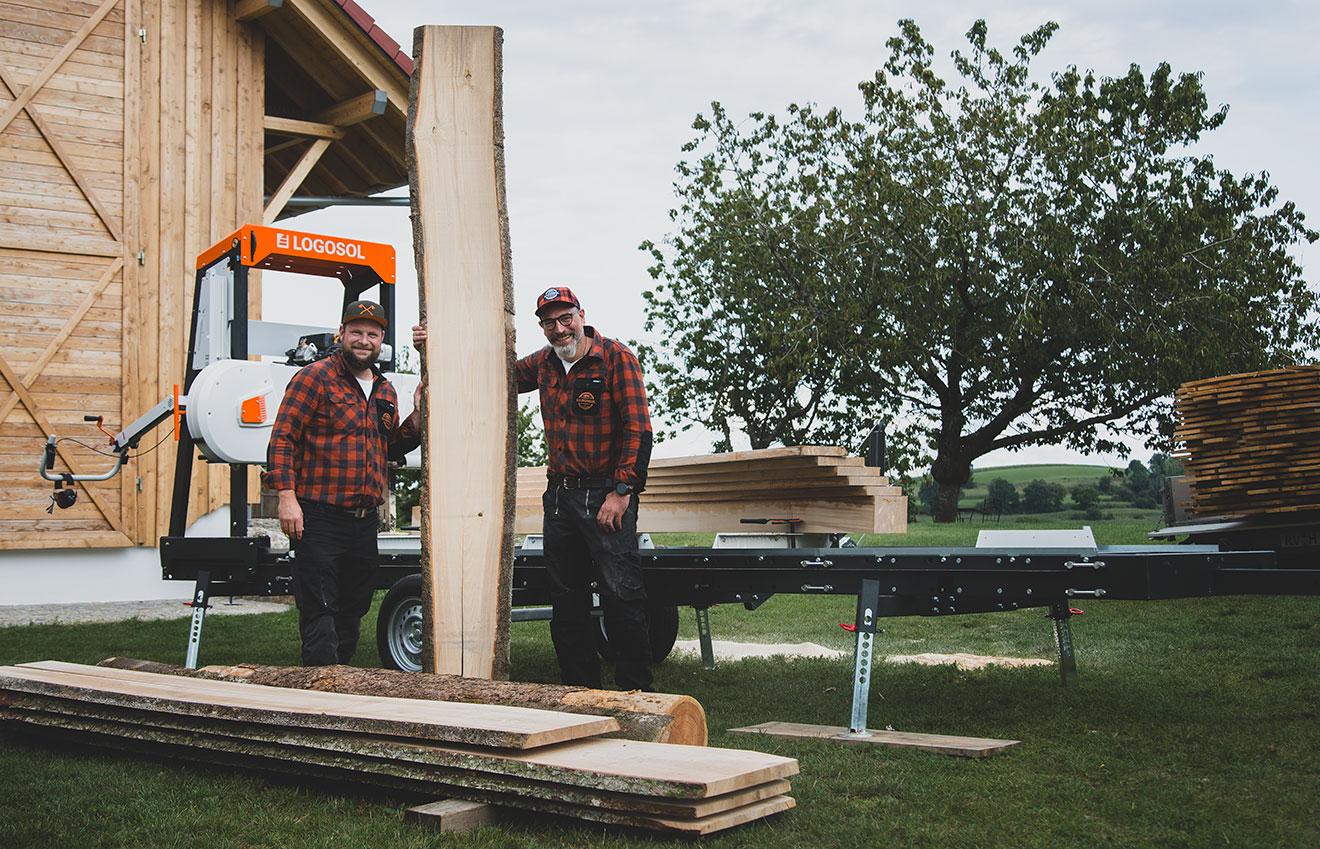 Smart Tips and Hacks for Bandsaw Blades!
Tips from Göran Arnesson, senior bandsaw specialist at Bahco
You need to twist the saw blade the other way around for it to fit the Logosol band sawmill.
Make sure the saw teeth are facing in the right direction before starting the saw.
Make sure the blade is highly tensioned. Follow the instructions for the bandsaw and tension it correctly.
The saw blade can be stored in a "loop" for many years without damage.
How to preserve sharpness
Keep the guard on the blade until the blade is installed in the bandsaw. Never let the toothed side of the blade come into contact with the ground or other hard materials.
Cool with water when sawing.
Adjust feed pressure to make sure the blade never touches the rear blade guide.
Release blade tension when the bandsaw is not in use for periods longer than one hour.
When not in use, lubricate blades with universal oil.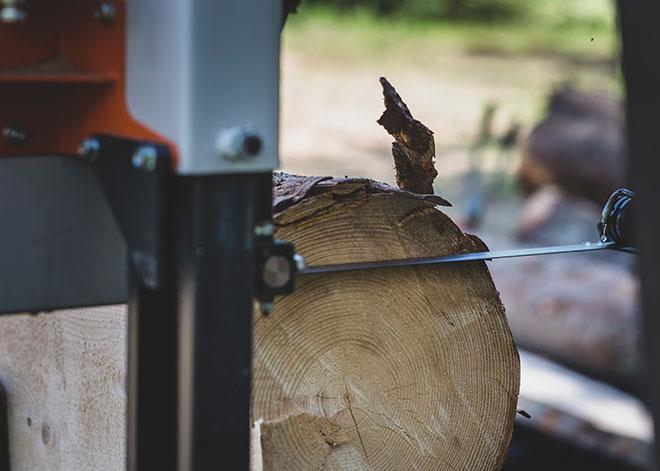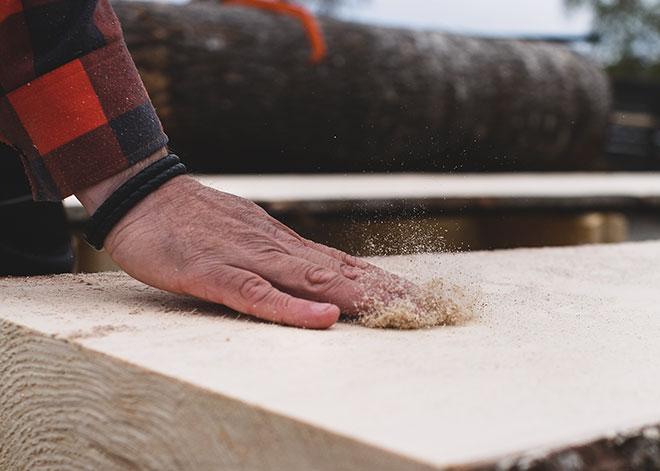 Your current selection is:
Global
Aland Islands
Albania
Andorra
Austria
Belarus
Belgium
Bosnia and Herzegovina
Bulgaria
Croatia (Hrvatska)
Czech Republic
Denmark
Estonia
Faroe Islands
Finland
France
Germany
Gibraltar
Greece
Hungary
Iceland
Ireland
Italy
Latvia
Liechtenstein
Lithuania
Luxembourg
Macedonia
Malta
Moldova
Monaco
Montenegro
Netherlands
Norway
Poland
Portugal
Romania
Russia
San Marino
Serbia
Slovak Republic
Slovenia
Spain
Svalbard and Jan Mayen Islands
Sweden
Switzerland
Ukraine
United Kingdom
Vatican City State (Holy See)
Anguilla
Antigua and Barbuda
Aruba
Bahamas
Barbados
Belize
Bermuda
Canada
Cayman Islands
Costa Rica
Cuba
Dominica
Dominican Republic
El Salvador
Greenland
Grenada
Guadeloupe
Guatemala
Haiti
Honduras
Jamaica
Martinique
Mexico
Montserrat
Netherlands Antilles
Nicaragua
Panama
Puerto Rico
Saint Kitts and Nevis
Saint Lucia
Saint Vincent and the Grenadines
St. Pierre and Miquelon
Trinidad and Tobago
Turks and Caicos Islands
United States
Virgin Islands (British)
Virgin Islands (U.S.)
Argentina
Bolivia
Brazil
Chile
Colombia
Ecuador
Falkland Islands (Malvinas)
French Guiana
Guyana
Paraguay
Peru
Suriname
Uruguay
Venezuela
Afghanistan
Armenia
Azerbaijan
Bahrain
Bangladesh
Bhutan
British Indian Ocean Territory
Brunei Darussalam
Burma (Myanmar)
Cambodia
China
Christmas Island
Cocos (Keeling) Islands
Cyprus
East Timor
Georgia
Hong Kong
India
Indonesia
Iran
Iraq
Israel
Japan
Jordan
Kazakhstan
Korea (North)
Korea (South)
Kuwait
Kyrgyzstan
Laos
Lebanon
Macau
Malaysia
Maldives
Mongolia
Nepal
Oman
Pakistan
Palestinian Territory, Occupied
Philippines
Qatar
Saudi Arabia
Singapore
Sri Lanka
Syria
Taiwan
Tajikistan
Thailand
Turkey
Turkmenistan
United Arab Emirates
Uzbekistan
Viet Nam
Yemen
Algeria
Angola
Benin
Botswana
Burkina Faso
Burundi
Cameroon
Cape Verde
Central African Republic
Chad
Comoros
Congo
Democratic Republic of Congo
Djibouti
Egypt
Equatorial Guinea
Eritrea
Ethiopia
Gabon
Gambia
Ghana
Guinea
Guinea-Bissau
Ivory Coast
Kenya
Lesotho
Liberia
Libya
Madagascar
Malawi
Mali
Mauritania
Mauritius
Mayotte
Morocco
Mozambique
Namibia
Niger
Nigeria
Reunion
Rwanda
Sao Tome and Principe
Senegal
Seychelles
Sierra Leone
Somalia
South Africa
St. Helena
Sudan
Swaziland
Tanzania
Togo
Tunisia
Uganda
Western Sahara
Zambia
Zimbabwe
American Samoa
Australia
Cook Islands
Fiji
French Polynesia
Guam
Kiribati
Marshall Islands
Micronesia
Nauru
New Caledonia
New Zealand (Aotearoa)
Niue
Norfolk Island
Northern Mariana Islands
Palau
Papua New Guinea
Pitcairn
Samoa
Solomon Islands
Tokelau
Tonga
Tuvalu
Vanuatu
Wallis and Futuna Islands